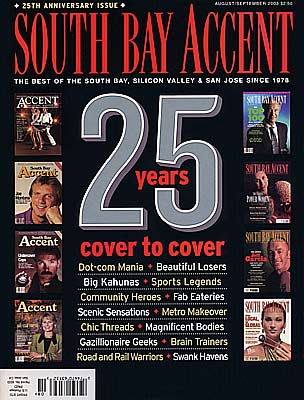 Chief Make-up Artist Rose Hill
If models and local celebrities look especially well groomed on the covers of South Bay Accent, it's because Rose Hill has worked her magic, applying make-up and fixing hair before photo shoots. Since 1991, she, or a member of her experienced crew, has transformed many faces to bring out their best features. Rose has three companies: the Academy of Cosmetic Arts, where she trains cosmetologists; Rose Hill & Crew, which works in the film and television industry; and Rose Hill of Los Gatos, which specializes in bridal hair and make-up.
"I know what's needed to eliminate dark circles and bags under the eyes of models as well as high-level executives. And politicians trust me to put on their make-up," she says. "People who've never had their photos taken professionally are the ones who are most apprehensive about how they'll look."
Rose works apace with the photographer and art director using commercial hair and make-up products on the subjects. She even irons clothes if they're wrinkled. Her favorite covers are of Jackie Rice, wife of football great, Jerry Rice, and of an Asian model holding a tiny globe with her chopsticks.