What inspired you to become a makeup artist?
I've always been very creative and very good at artistic things. When I was 17, I entered a contest sponsored by a major cosmetics company in which I wrote an essay on makeup and I won! The company flew me and my mom to Cincinnati, Ohio where they trained me as a makeup artist. I learned a lot from that training, what lines were good, what worked, what didn't work. And not just makeup, I learned a lot about skin care and today I'm a licensed cosmetologist and a licensed aesthetician.
You've worked on many different assignments, from film to television to print. Do you prefer one above the others?
Everything I do I love. I get so many great jobs – actors, big Silicon Valley executives, politicians...I've even done Bill Clinton and Al Gore. Gore I've done several times. He's a very nice man.
The people you work with are as varied as your assignments. How is it working with all the different personalities?
I've been really lucky. I've always gotten along with everyone – clients, photographers, directors, celebrities, crew. Everyone is usually younger than me, so they look up to me. People are always coming to me with their problems. I've never had a really bad experience on a job. You don't usually want to get mad at your makeup artist, just like you don't want to get mad at your waiter at a restaurant. Why get mad at the person who handles your food or your face?
How do you think you've been able to maintain such success?
I have a certain style that's all my own, but I'm also constantly learning. I keep up with new techniques, styles and training. I train non-stop – I learned early on that that's the best way to become good at what I do. I got licensed as a cosmetologist from a school that's not even around any more, but all my skill I gained from experience and hands-on work. I do everything: airbrush, special effects, horror, hair, wardrobe, image styling. And I'm always looking for new techniques and products to do my job better.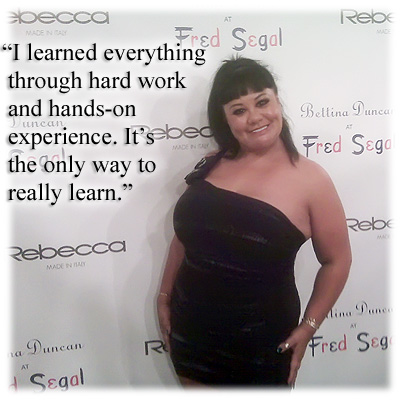 Rose Hill
Born in Stanford, CA, 1955. Has been doing makeup and styling for 30 years. Has worked in film, television and print, and her many high profile clients include actors, athletes, politicians and corporate executives. Her most exciting assignment was doing makeup for the President of the United States, Bill Clinton, and Vice President Al Gore. Owns her own company, Rose Hill and Crew, and also runs her own school, the Academy of Cosmetic Arts. Words to describe Ms. Hill include: Vibrant and enthusiastic about life and about her career. Professional and experienced. Confident about her ability, yet still striving to be better. Balances work, family and individual pursuits like ballroom dancing.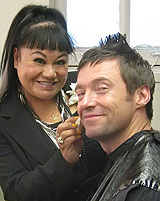 What's a typical day like in the life of Rose Hill?
When I get up, I check on my dogs, Princess and Precious. Then I check my e-mails and husband. Then, unless, I have an assignment, I get on the phone and never get off. Apart from the art of makeup, my job is to talk to people and get to know their needs and the needs of my job. Once I understand what my job demands, then I know I can do it well.